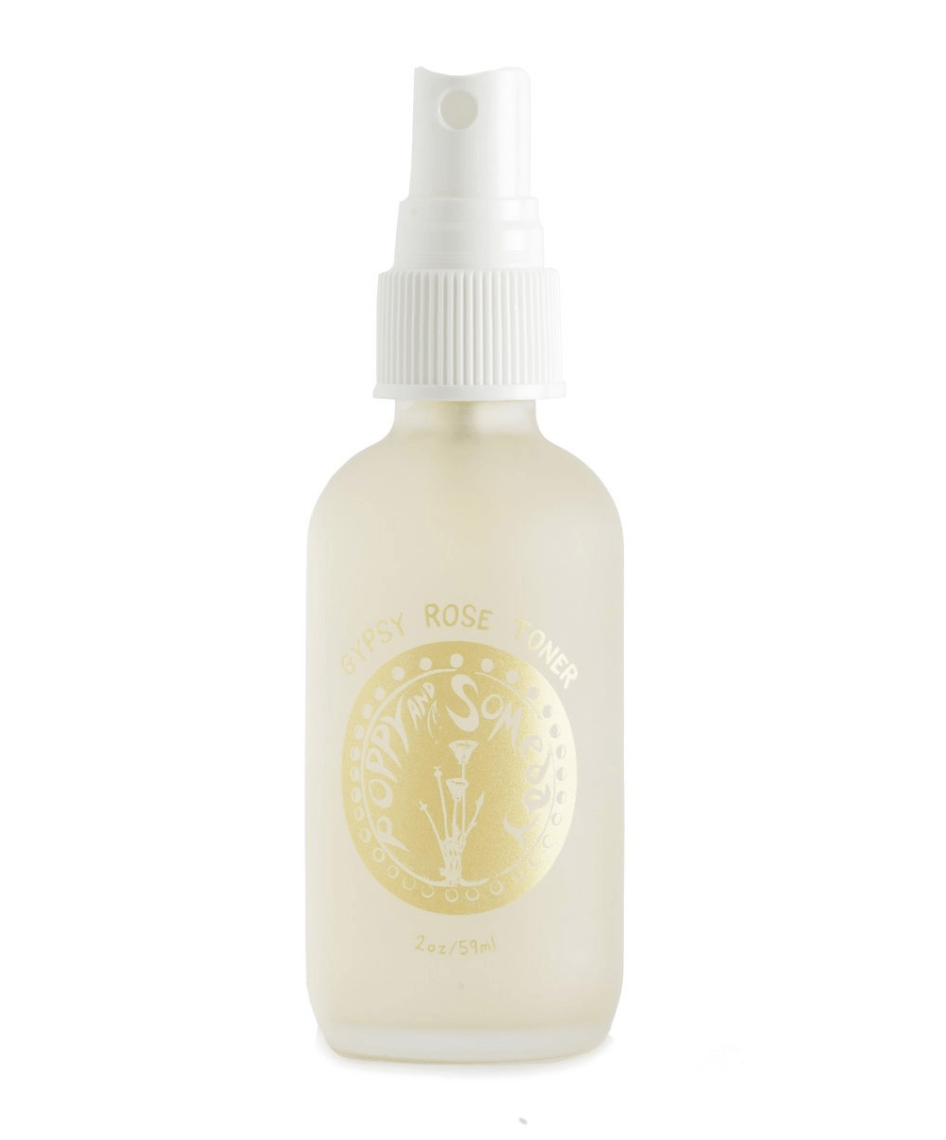 Venus Rose Toner
Poppy & Someday
Regular price $35.00 Sale
Replenish, restore, and renew your face. The sweet floral scent in Venus Rose Toner helps to soothe sensitive and irritated skin conditions. Rose's nourishing effect is cooling and anti-inflammatory helping to calm and tonify blood vessels. Infused with rose quartz increasing love and compassion. Spray on face morning and night. Shake well.
Ingredients:  Rose Otto and Palmarosa Essential Oil, Rose Hydrosol, Evening Primrose Oil, Witch Hazel Extract Rose Quartz Crystal and Alkaline Water. 4 oz Frosted Glass Bottle. Organic/ Handmade. 
Rose Hydrosol - This aromatic water of organic roses rejuvenates, hydrates, softens, calms redness and feelings of irritation, and if used over time, reduces the effects of time (as seen in facial lines and wrinkles).
Evening Primrose Oil - is well known to women who suffer the effects of pre-menstrual syndrome (PMS), but it is also very useful for keeping your skin in good condition.  It can rejuvenate tired and aging skin, make tired eyes look fresher, reduce and remove fine wrinkles, and help you feel rejuvenated and younger.
Witch Hazel -  One of the most common uses for witch hazel is as an astringent.  It has the ability to remove excess oil, dirt and residue from skin and shrinks pores.  Regular use of witch hazel on your face and skin helps keep blackheads and blemishes from forming.  
Rose Otto Essential Oil - is traditionally calming and uplifting, and has anti-inflammatory cooling and soothing properties. Rose oil can improve acne, balance hormones, relieve anxiety, improve depression, reduce rosacea and naturally increase libido.
Palmarosa Essential Oil -  regulates skin moisture and oil production and is therefore useful for both dry and oily skin. Offering cell renewal benefits, palmarosa essential oil nourishes and restores skin health and harmony. 
Rose Quartz Crystal -  is a stone of the heart, a crystal of unconditional love. It carries a soft feminine energy of compassion and peace, tenderness and healing, nourishment and comfort.  
All beauty sales are final. Bottle design may vary slightly.