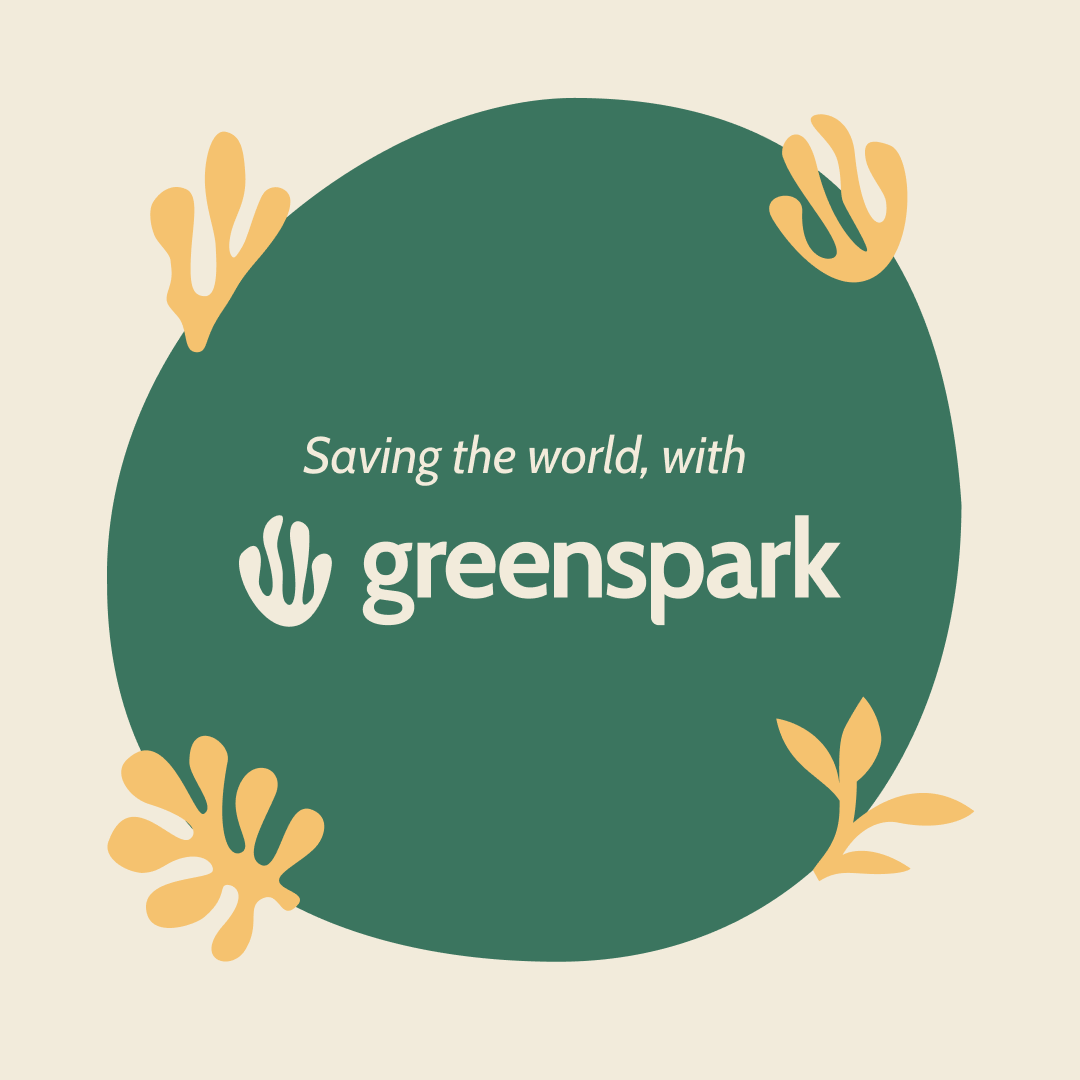 Regenerate with every order

Through our partnership with Greenspark, every order will support our commitment to regeneration and sustainability. Throughout the year, we will alternate the impact each order makes - from planting trees to cleaning oceans to offsetting carbon emissions. Currently, 10 plastic bottles are recovered and recycled per order with BaYou. Plastic Bank builds ethical recycling ecosystems in coastal communities while simultaneously creating positive economic opportunities for those who helped to collect it. Since 2013, they have recovered and recycled over 10,000,000 kg.of ocean bound plastic, and their collectors receive a premium for the materials they collect, which helps them provide for their family's basic needs. This promotes the circular economy by monetizing plastic waste, and the collected material is reborn as Social Plastic, which can then be easily reintegrated into products and packaging as part of a closed-loop supply chain. Location sites are selected based on three core criteria: high unemployment, high poverty, and high plastic pollution.Plastic Bank is helping the world stop ocean plastic while improving the lives of those who collect it.
Additionally, 100 trees are planted with every engagement ring for your story of love. Currently, trees are planted through Eden Reforestation Project which is on a mission to combat deforestation by employing local communities to plant trees, providing an empowering means to alleviate extreme poverty through environmental stewardship. Eden Reforestation Projects fight deforestation and alleviate poverty by employing local communities to restore their natural ecosystems. Read about the project here and learn more by visiting our profile on Greenspark.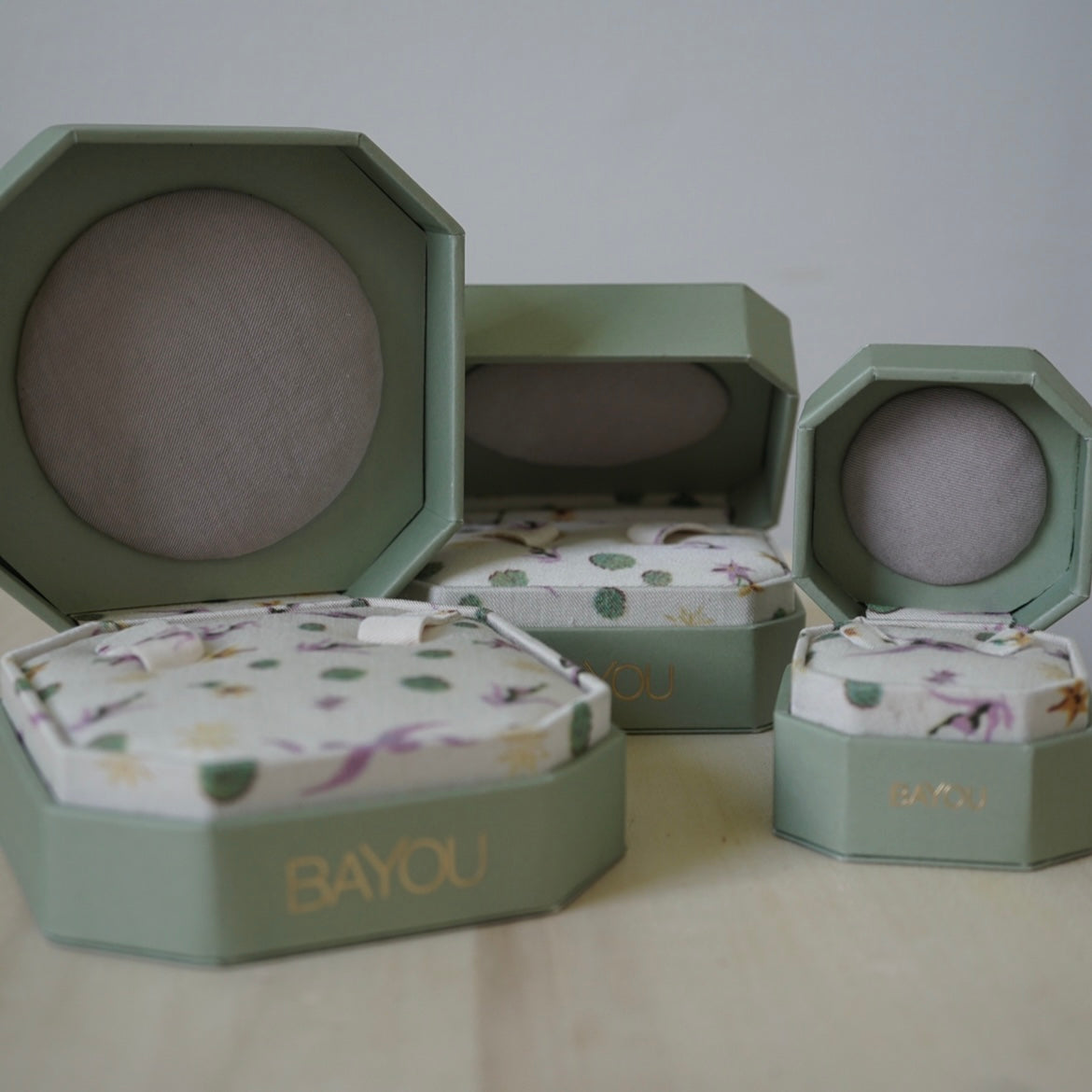 Jewelry Boxes

Our signature BaYou jewelry boxes were created using earth-conscious materials such as bamboo linen fabric, biomass foam padding and wrapped in sustainably sourced paper. Our sustainable manufacturer states these materials degrade naturally and are renewable. Our boxes and jewelry are designed with the intention to continue gifting them from generation to generation.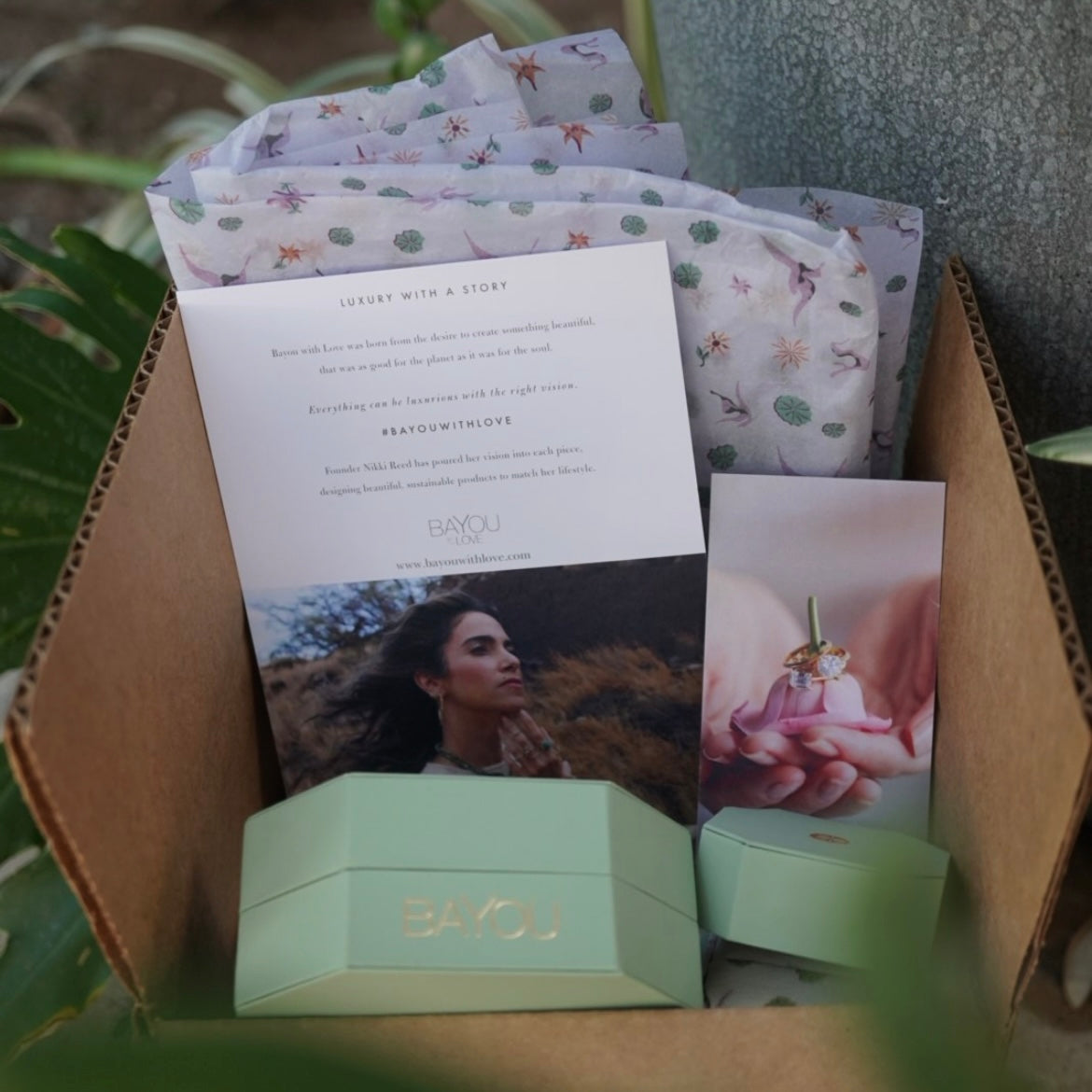 Shipping Materials

Our BaYou information and jewelry care cards are made with post-consumer recycled paper and uncoated to make them recyclable again. We have made a BaYou recycled tissue paper, designed by Nikki, to help keep your pieces safe in transit while also being beautiful to reuse for gifts you give in the future. The kraft cardboard shipping boxes are made in the USA and reusable/recylable.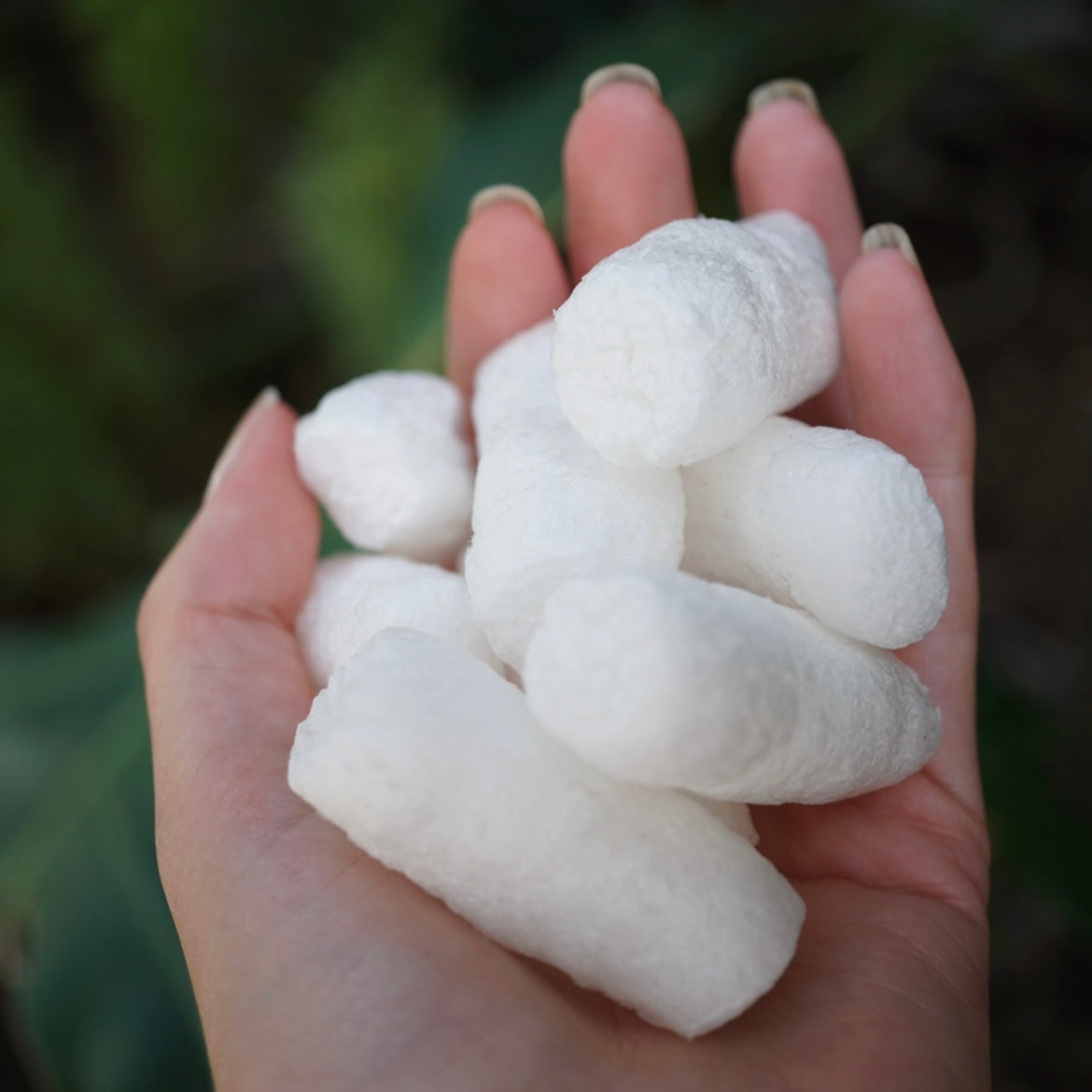 Biodegradable Peanuts

Unlike traditional, toxic styrofoam peanuts, our packing peanuts are made from organic starch. They are planet-friendly and easily decompose in water leaving no toxic waste behind. We also suggest you save and reuse them.
Tree-Free prints by nikki
We have chosen to work with a print house that has shared they prioritize sustainability by using tree-free, cotton fiber papers that are both renewable and 100% recyclable from cotton linter. See our current collection of limited prints here.